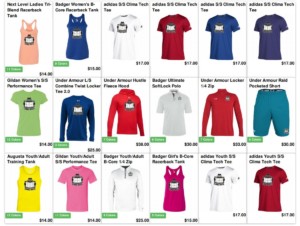 The Shop is OPEN!!! It will remain open for around a week or so. Once the store closes we will deliver as soon as we get them. We will NOT be able to get the gear back by Christmas sorry.
There's a new place for everyone to shop online for Tennis Mafia-branded apparel. Visitors to https://tennismafiaclub.itemorder.com/sale can browse a selection of high-quality shirts, tanks, pullovers, shorts, and hats – all featuring the distinctive Tennis Mafia logo. The merchandise is available in a range of youth and adult sizes, in an array of colors.
A quick guide to shopping the store:
Visit https://tennismafiaclub.itemorder.com/sale or follow the Shop link on https://www.tennismafia.com.
Note the order deadline at the top of the page. The site is set up to take orders for a designated period, briefly suspend sales while fulfilling orders and then reopen for the next round of orders.
Browse the merchandise, select your preferred sizes and colors, and add them to your cart.
Check out securely using a credit or debit card.
Your order will ship to us in 4-6 weeks. A friendly Tennis Mafia member will arrange to deliver it to you in person or mail it to you with a personalized thank-you note.
As always, proceeds will support Tennis Mafia's mission to promote the growth of community tennis and increased playing opportunities.