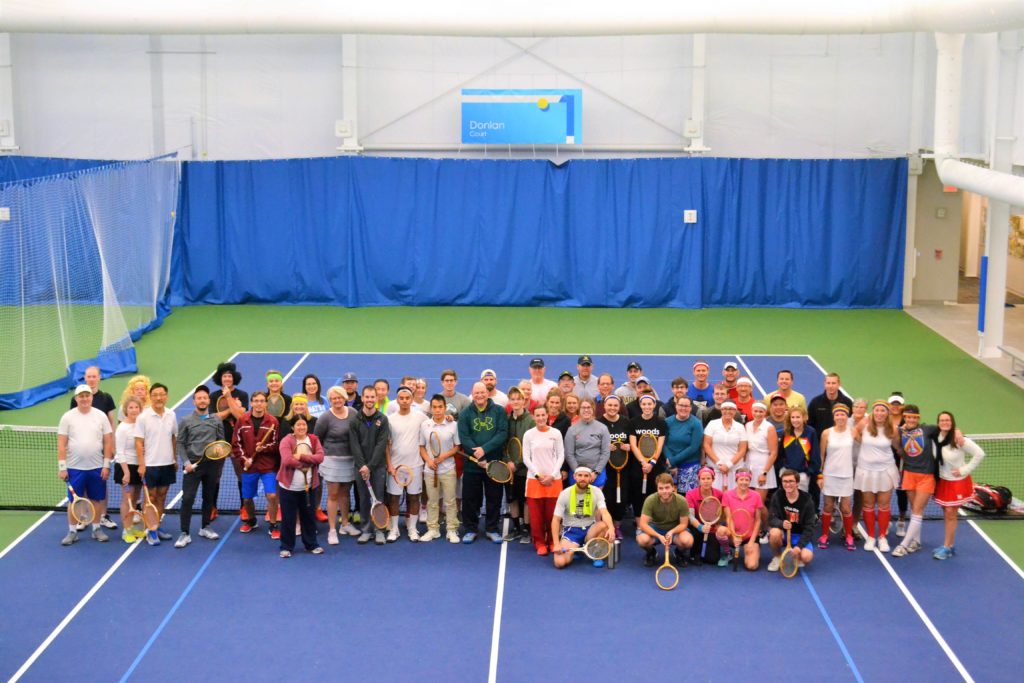 Sign up is OPEN!
Woodbledon Signup Form
Sign up for Woodbledon, our wood racket tournament! November 23, 2019, starting at 5 p.m. at Woods Tennis Center. Player check-in at 4:30.
We provide the rackets, don't worry if you don't have one!
EARLY BIRD SIGNUP cost is $20 per person and you can sign up using this form. Just fill in your information and click the PayPal button, which will take you to a page to complete your payment.
Registration price will go up to $30 per player on November 5, 2019.
Entry will be limited to the first 30 teams who sign up. Don't wait, it's going to fill up fast!
See additional details below.
Have questions? Email Aaron Ogden at AO@tennismafia.com.
Signup Instructions
Please fill out this form with the required information. After you click Send, it will redirect you to PayPal to make the $20 registration payment.
Need help deciding your USTA rating? Check out the descriptions of each rating here.
Please fill out the following form below and make one PayPal payment per player. Please fill out ALL FIELDS in the form.
Please remember, after you click "Submit" you will be redirected to paypal to make your payment.
Everything you need to know about the 2019 event
WOODBLEDON FAQ
What is it?
Woodbledon is Tennis Mafia's annual social doubles tournament where participants play with wood rackets. Teams are split into divisions based on skill level and compete in round-robin play against other teams within their division. We use the Fast4 scoring format so matches are quick and no team sits for long. Oh, and most players get into the spirit by dressing up in retro tennis clothing.
When?
It's one night only – Saturday, November 23rd. We know you're busy so we're cramming tennis, dinner, prizes and other fun activities into just a few hours. Play will start at 5 p.m. sharp; plan to be on your way home around 9 p.m. Once you're entered, our tournament director will email you details about checking in and warming up at the event.
Where?
All matches will be played on the six indoor courts at Woods Tennis Center in Lincoln, Nebraska. Teams will be divided into six divisions, with each division assigned a court to play on all evening.
How much does it cost?
Entry is $20 per player if you sign up by November 4. After that date, it's $30 per player until the November 17 entry deadline. The cost includes court time, equipment (we provide the wood rackets, and no, you can't take them home), balls, food and a player gift. In addition, a portion of proceeds from the event will be donated to Woods Tennis Center.
Did you say "food"?
We did. A light buffet meal will be provided after 6 p.m. We'll have water, soft drinks, fruit and sweets for you to snack on the entire time.
Will there be much downtime between matches?
No, we don't think so. We expect the average match to last 15 to 20 minutes. To avoid a backlog, we've also limited the number of teams that can sign up. While you're waiting to play, check out the matches on any of the courts, grab some grub, play ping-pong, pose for pics in your throwback threads or rock out to our specially curated playlist.
Why's it called Woodbledon?
We could blather on about how it's a nod to the tradition of that famous grass court tournament in England. But who are we kidding? It's a wood racket tournament and we like name puns, okay?
What's Tennis Mafia?
We're a USTA partner and Nebraska Tennis Association's 2018 member organization of the year. The mission of Tennis Mafia is to grow participation in the sport through social, recreation and philanthropic opportunities in the community. Simply put, we get people playing, enjoying and supporting tennis.
Woodbledon Flyer 2019